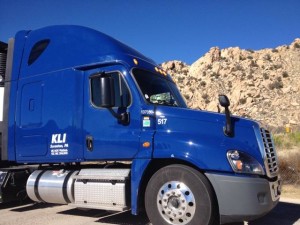 Dedicated Contract Freight Services
KLI will develop, design, and execute a supply chain solution to support your transportation needs. These logistic designs are dedicated to guaranteeing capacity, optimizing efficiency, and managing costs.
We provide advanced technologies, extensive experience, and a wide range of equipment to fulfill your transportation needs. We work hard to understand your business in order to deliver the right solutions that make a bottom-line difference.
Refrigerated Freight Service

If you have freight that needs to travel at a steady temperature through a country of changing temperatures, our trucks are more than capable of handling your needs. Here at KLI, we have the right specialized equipment to handle your temperature controlled freight. Our state of the art technology allows you to view the temperatures the entire trip as well as provide our drivers the capabilities to easily monitor temperatures. Implementation of these processes allow us to provide you better quality and more cost effective logistic solutions.
Truckload Freight Services

KLI provides all types of transportation solutions – specializing in truckload services from coast to coast.
We will examine your specific needs in order to design the most effective and efficient solution for your transportation needs.
With all of our freight services we provide:
tracking
proof of delivery
carrier payment
reporting and analysis
freight routing